Back to List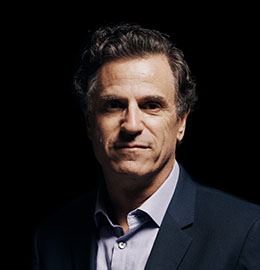 David Paine
President and Co-founder
David Paine is the CEO and co-founder of the September 11 National Day of Service and Remembrance, ("9/11 Day").
David created 9/11 Day in 2002 in collaboration with his close friend Jay Winuk. Jay had lost his brother Glenn J. Winuk, an attorney and volunteer firefighter/EMT who was killed in the line of duty during the rescue effort at the World Trade Center.
"More than anything else, we wanted something positive and good to come from the tragedy, to help give some semblance of meaning to the loss of so many innocent people in such a terrible way," David explains. "We didn't want the legacy of 9/11 to forever be defined by the evil expressed on that day, but rather by the remarkable spirit of togetherness and compassion that arose in response to the attacks."
In 2002, David and Jay set out to transform 9/11 into a "day of doing good," where Americans would join in unity each 9/11, take a moment to reflect on what's most important in life, and then pledge to do a "good deed" in tribute to those killed and injured on 9/11, along with the many brave rescue and recovery workers, and members of our military who rose in service in response to the attacks.
In 2009, as a result of their efforts, President Barack Obama joined with the U.S. Congress on a bipartisan basis to formally designate September 11 as a National Day of Service and Remembrance under federal law. Today, this observance, known widely as "9/11 Day," has become the largest day of service in the United States, with more than 30 million people participating annually.
"When 9/11 happened, for a brief moment, we weren't Red States of Blue States. We were the United States," David says, "People did everything they could to help one another, not only the victims of the attacks, but people they didn't know, perfect strangers who might have been stranded, or needed a helping hand. We wanted to keep that spirit of togetherness and service alive as a permanent reminder of how important we ultimate are to each other, regardless of our differences from time to time.
As CEO and co-founder of 9/11 Day, David creates and oversees many of 9/11 Day's programs, including its nationwide 9/11 Day Meal Pack volunteer service projects, now held in ten U.S. cities, which mobilize more than 15,000 volunteers who together pack millions of non-perishable meals for people in need. David also guides national fundraising, works closely with hundreds of companies and other organizations, and coordinates federal activities in support of 9/11 Day, working with the U.S. Congress, White House and AmeriCorps, a federal agency that oversees many important national service programs.
Prior to creating 9/11 Day, David founded and lead the national public relations firm, PainePR, an award-winning agency known both for its outstanding creative work, as well as its pioneering use of innovative humanistic philosophies in the workplace. During David's tenure, the firm was named "Best Managed," "Best Place to Work," and "Most Creative" among national agencies, and also won more than 200 awards for its work. David lives with his wife Laney and their four children, Matthew, Eric, Alyssa, and Ryan, in California.
Feel free to contact David by email at: [email protected]